Boom-SMS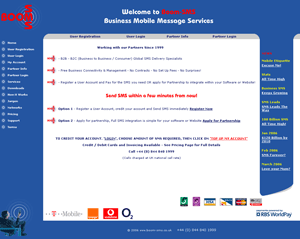 WELCOME to the new look Boom-SMS
*** Yes it's still us; we've just had a makeover! ***
If you didn't receive an email in advance, please accept our sincere apologies.
In the meantime, our very dedicated & skilled technicians have been working hard for many months now to provide you with a new and improved site with more functionality, options & (using the very latest technologies) the ability for us to easily add more features in the future.
We really hope you find our new site easy to navigate & would greatly appreciate your feedback. Please take a moment to have a look around & tell us what you think. If you are in any doubt as to where to find things then contact us immediately.
Email: info@boom-sms.co.uk or Call 0844 840 1999
We would also like to take this opportunity to thank you, our very loyal customers and wish you every success in the future!
Working with our Partners Since 1999
B2B - B2C (Business to Business / Consumer) Global SMS Delivery Specialists
Free Business Connectivity & Management - No Contracts - No Set Up Fees - No Surprises!
Register a User Account and Pay for the SMS you need OR apply for Partnership to integrate within your Software or Website!
Send SMS within a few minutes from now!
Option 1
Register a User Account, credit your account and Send SMS immediately - Register Now
Option 2
Apply for partnership, Full SMS integration is simple for your software or Website - Apply for Partnership
To credit your account
LOGIN, GO TO MY ACCOUNT, CHOOSE AMOUNT OF SMS REQUIRED, THEN CLICK ON 'TOP UP MY ACCOUNT'
Credit / Debit Cards and Invoicing Available - See pricing page for Full Details
Call +44 (0) 844 840 1999
(Calls charged at UK national call rate)